Backup Solutions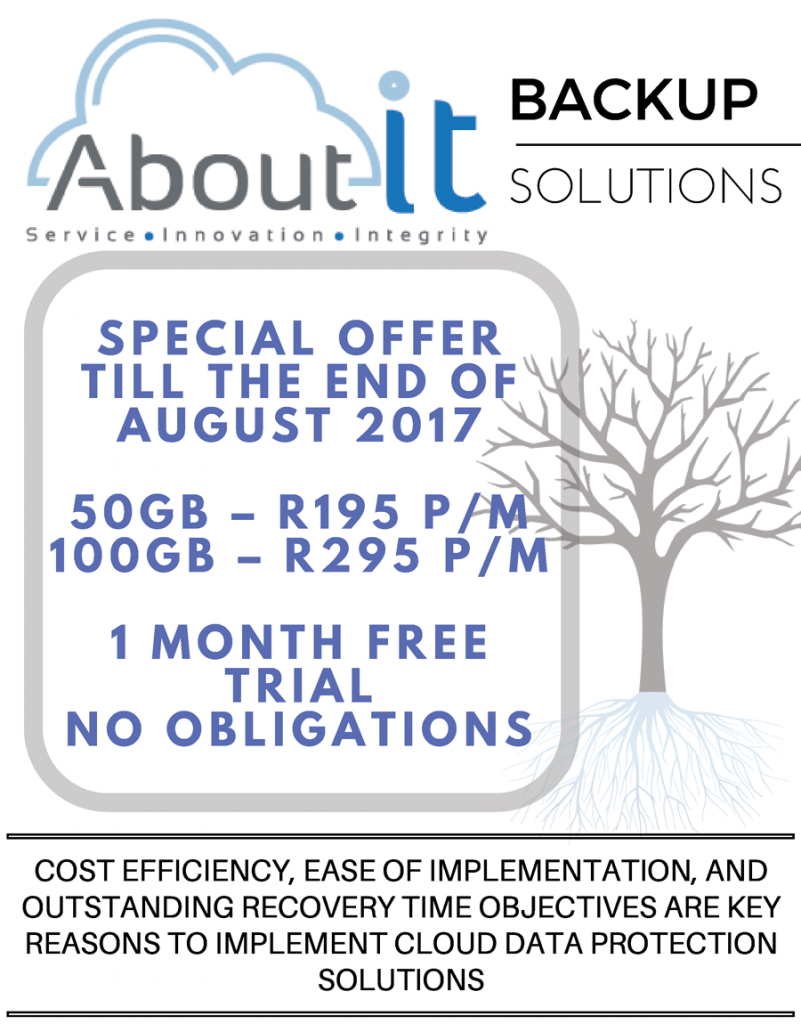 Introduction
Cost efficiency, ease of implementation, and outstanding Recovery Time Objectives (RTOs) are key reasons
to implement cloud data protection solutions
According to an ESG study, use of cloud storage to store backups has tripled from 2012 to 2015.

Since 2003, About IT has offered industry-leading disaster recovery solutions to businesses of all sizes.

Today, law firms, banks, financial institutions — and other organizations with extreme data sensitivity,

high security requirements, and zero tolerance for data loss and downtime — trust About IT to protect their

business-critical systems and data.

About IT has unparalleled experience in designing and executing critical data protection solutions. About IT

Cloud data centers leverage sophisticated enterprise-level security, privacy, and compliance mechanisms

for organizations of all sizes. Few of the more than 500,000 About IT business customers can implement

the same level of security on their premises, or in their private clouds, using their own resources.

This document describes About IT' stringent privacy and data security policies and practices regarding

the confidentiality and safety of your data. Given the accelerating rate of change in the information

technology industry and its ever-evolving capabilities, technical details in this white paper are subject to

change. What never changes is About IT' unwavering dedication to protect your data.

ABOUT IT CLOUD DATA CENTERS: A PRIMER ON SECURITY, PRIVACY, AND COMPLIANCE
Network Security
About IT continuously monitors the security of its entire IT infrastructure to protect against advanced

cyber-attacks. About IT controls and monitors its boundary, DMZ networks, VPN and remote connections,

and internal flows. About IT utilizes automated tools in conjunction with organizational controls to guard

against human interventions.

The About IT network is multi-layered and zone-based. Its customers and internal environments are fully

segregated.

About IT provides real-time encryption for all data transferred between customers and data centers,

About IT employees and data centers, and between the data centers themselves. This provides the best

protection for network interaction between office-based users and data centers.

To protect against malware, About IT uses the most modern web application firewall. It includes instant

protection against SQL injection, cross-site scripting, unauthorized resource access, remote file inclusion,

and other OWASP (Open Web Application Security) threats.

About IT' enterprise-grade network security is designed to prevent even the most sophisticated attacks,

and offers a level of protection that is extremely difficult for small-to-medium businesses (SMBs) to

achieve in their on-premise facilities.
Physical Security
Security starts at the About IT Data Centers. About IT hosts data and cloud products at trusted data centers
that are physically distributed around the globe — in the U.S., UK, Switzerland, France, Germany, Russia,
Japan, Singapore, and Australia.
Respected, non-About IT accreditation organizations regularly audit About IT Data Centers
to ensure support of various certifications. These standards include:
ISO/IEC 27001
ISO/IEC 9001
SSAE 16, Types 1 & 2
PCI DSS
About IT Data Centers and About IT technology are physically supported
and secured 24/7, 365 days to protect against potential attacks using:
Cages
Access control cards
Biometric access control systems
Fire suppression systems
Surveillance cameras and notification systems, such as intrusion detection sensors,
heat sensors, and smoke detectors
Similar measures protect About IT business offices and headquarters as well.
About IT employs the highest standards of physical security at About IT Data Centers, protecting the
safety of customer data. The level of protection from intruders exceeds anything that small to medium
businesses can hope to implement alone.